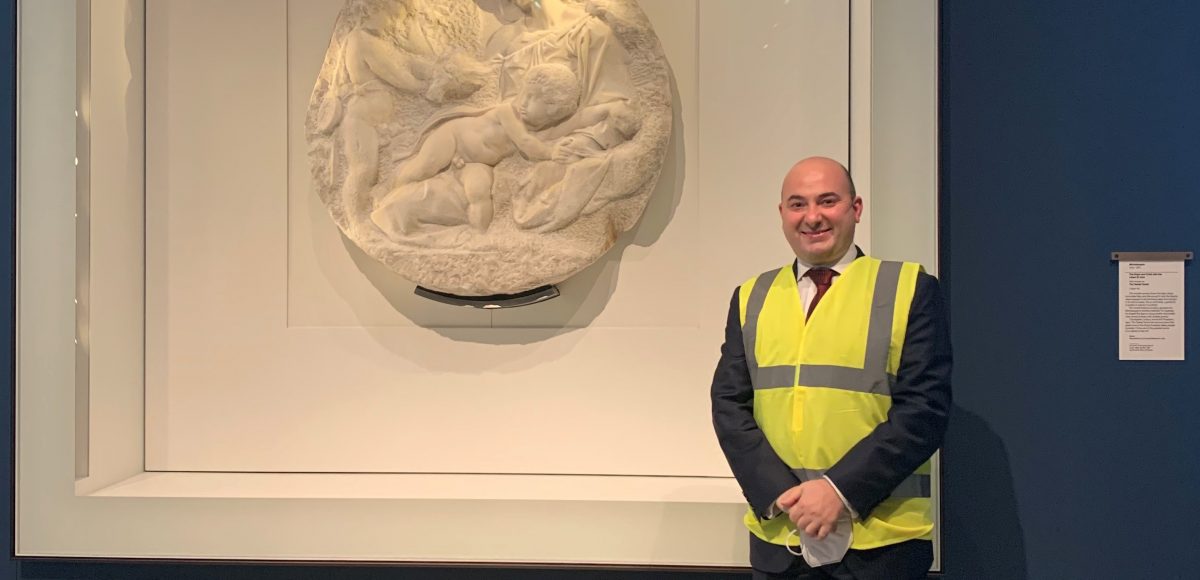 What a month May has been! Let's step back for a moment and celebrate in style now
With the lockdown restrictions easing in the UK, site inspections and client meetings (in person!!!) have made our May diaries pretty busy. We'll follow up soon about the many ESG initiatives that we've been involved in across the UK and beyond, but for the time being let us just take a break and enjoy the moment.
As a keen art lover (and a passionate London tourist guide in his youth), it doesn't come as a surprise that our Managing Director and Founder shows here all his appreciation for having had the opportunity to provide the Royal Academy (RA) of Arts with his expertise in energy and sustainability matters.
The Tondo Taddei (or "The Virgin and Child with the Infant St. John") is the only marble sculpture by Michelangelo Buonarroti in a UK collection and we would like to share with you some details about this masterpiece.
The sculpture got its nickname because it was commissioned by the wealthy cloth merchant and connoisseur Taddeo Taddei and "tondo" is a Renaissance term for a circular work of art. Despite its grand, ecclesiastical appearance, it was intended for a domestic setting and it remained in the merchant's Florence home, the Casa Taddei, until the early 19th century. In 1822 the Tondo was purchased by the collector and amateur painter Sir George Beaumont, who brought it to London; when he left his works of art to the nation, his bequest of Old Master paintings led to the establishment of the National Gallery and Michelangelo's Tondo was promised to the RA, who received it following Lady Margaret Beaumont's death in 1829.
The infant figure of St. John the Baptist stands to the left with his baptismal bowl, the "attribute" with which he's often recognised in art history. He presents a bird to the infant Christ, who momentarily turns towards his mother, symbolically anticipating his future destiny; the bird is widely believed to be a goldfinch, which represents the Christ's Passion, the time of suffering before his Crucifixion, because a goldfinch is said to have removed a thorn from Christ's crown when he was carrying the cross.
While it's often thought that Christ's reaching away from the bird and towards his mother expresses his fear, more recently other scholars have argued that Christ's pose is playful as the goldfinch was a common pet in this period. his marble is believed to have been carved from 1504 to 1505 during Michelangelo's first period in Florence. It's unfinished, probably because he left it when he travelled to Rome in early 1505 to work on Pope Julius II's tomb. Giorgio Vasari, well-known for his Lives of the Artists published in 1550, suggested that Michelangelo did not complete some works out of creative frustration – an idea which has crystallised into the notion of the artist as troubled genius.
You can find more details on the RA's website here and actually, as the free collection has just re-opened, what a great opportunity to go and visit Burlington House in Piccadilly! We're sure you'll love it 😉