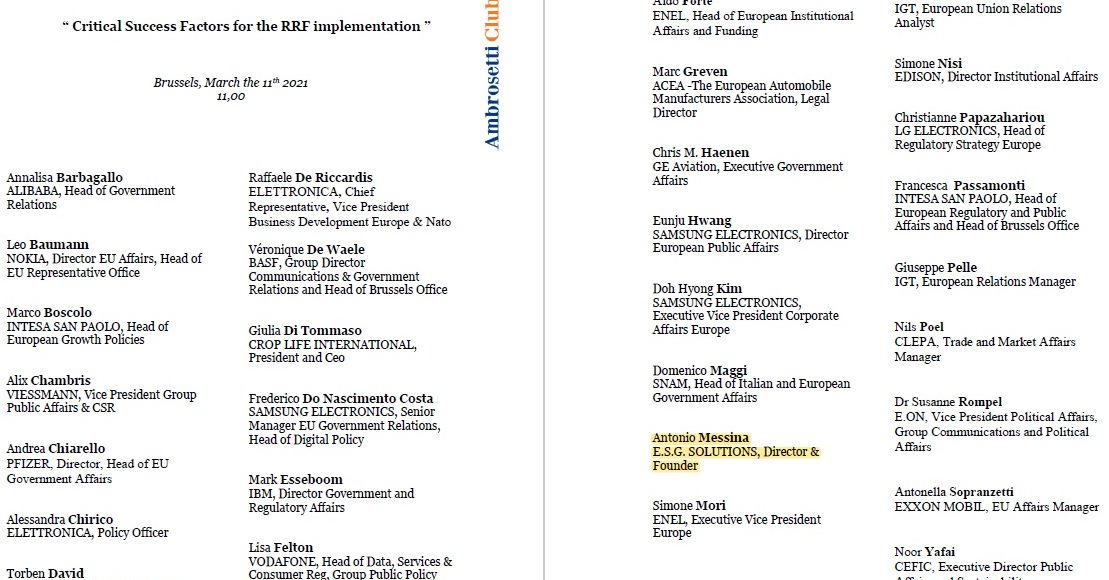 Think Tank on the EU Recovery and Resilience Facility
We're honoured and humbled to have been invited by Ambrosetti Club Europe to the session with the Commissioner Celine Gauer, Director General, Head of the Recovery and Resilience Task Force, European Commission, on "Critical Success Factors for the RR Facility's implementation.
The European House – Ambrosetti is the No. 1 Think Tank in Italy, ranking in the European top ten and in the World top twenty, and ranking in the World top one-hundred most-esteemed and independent out of 8,100 Think Tanks globally, in the University of Pennsylvania 2018 Global Go To Think Tanks Report, after conducting a survey among 70,000 leaders in institutions, businesses and media, in more than 100 countries worldwide.
The Recovery and Resilience Facility ("RRF" or "the Facility") will make €672.5 billion in loans and grants available to support reforms and investments undertaken by the EU Member States. The aim is to mitigate the economic and social impact of the coronavirus pandemic and make European economies and societies more sustainable, resilient and better prepared for the challenges and opportunities of the green and digital transitions.
By offering large-scale financial support for investment and reforms, the Facility will better prepare Member States for a sustainable recovery.
The RRF entered into force on 19 February 2021 and the funds needs to be used by 2026 ("all the money not spent will be lost").
The Facility is the centrepiece of NextGenerationEU, a temporary recovery instrument that allows the Commission to raise funds to help repair the immediate economic and social damage brought about by the coronavirus pandemic. The Facility is also closely aligned with the Commission's priorities ensuring in the long-term a sustainable and inclusive recovery that promotes the green and digital transitions.
EU Member States will prepare recovery and resilience plans that set out a coherent package of reforms and public investment projects to be implemented by 2026.
The Recovery and Resilience Facility offers an unprecedented opportunity to speed up the recovery in Europe and reinforce the commitment to the twin transitions: green and digital.  The Commission will assess the national plans against the following targets: a minimum of 37% of expenditure for CLIMATE investments and reforms and a minimum of 20% of expenditure to foster the DIGITAL transition.