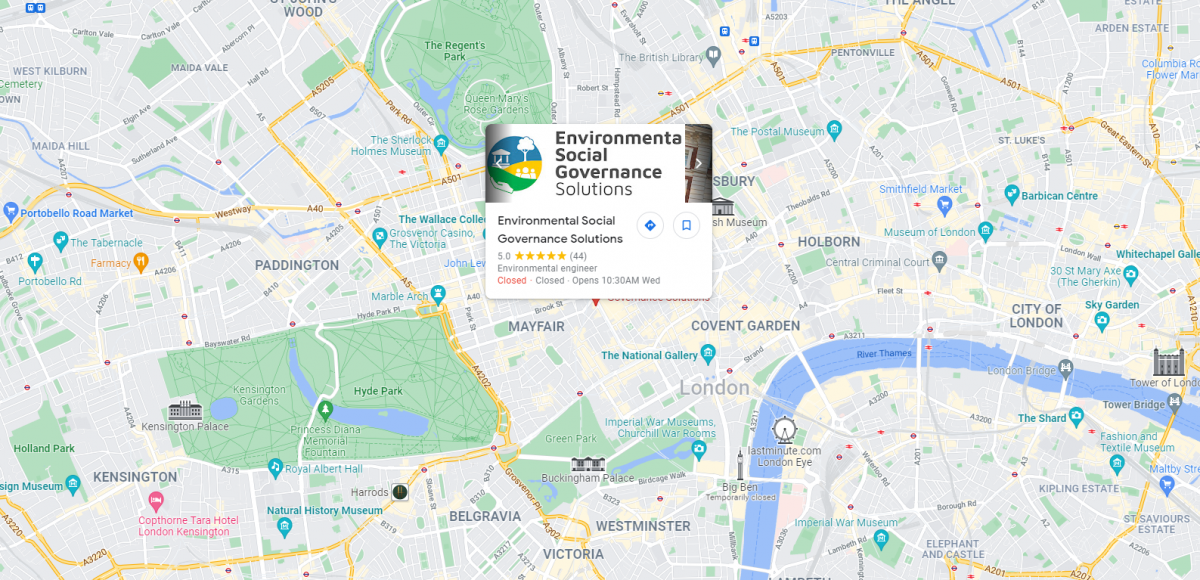 Outstanding 5-star rating on Google Maps
Simply THANK YOU for believing in us and choosing E.S.G. Solutions as your trusted consultant for ESG technical advisory and energy/carbon compliance services.
If we may spend ten minutes with you, we would like to try and explain what this feedback means to the team of committed professionals that embraced our company's mission.
We are a boutique sustainability consultancy proud to remain fully independent and to adopt a totally client-centric seller-doer business model. We started trading without a single contract in place and without any investors behind us. We just knew that we were pretty good at what we were doing, realised to be the innovators taking full responsibility and showing leadership in ESG technical matters during our corporate years, so to put it simply our confidence made us take a gigantic leap of faith, and one leap after another here we are!
We don't buy a speaker's spot at networking events to build "thought leadership" credentials, but we welcome the opportunity to give our time up every time an organisation invites us to share our experience and to mentor younger sustainability professionals (in fact, let us thank The Young Sustainability Network and the EU Tech Chamber for the opportunity to join their panels in 2021).
We don't invest thousands of pounds in marketing campaigns and don't rely on junior professionals to deliver our Clients' projects behind the scene. Let us give you just an example of our Unique Selling Proposition. When we sell to our Clients a MEES strategy for their property portfolio, they know that we are not offering "simply" our know-how in undertaking carbon risk management projects for large private and public clients. Our approach is holistic, e.g. including new developments and existing assets, energy modelling and energy data analytics, embodied carbon and operational carbon, disposal and acquisition lists, etc. Clients know that we have had unrivalled first-hand experience of what the scientific criteria behind the F&G asset rating of an Energy Performance Certificate or a BRUKL document are, because we have also been EPC L3,4&5 assessors and accredited energy modellers in UK and abroad since 2008, helping major real estate developers and asset managers with their energy assessments for planning applications or operational performance reviews. But it doesn't stop there: to generate energy models that can truly represent the carbon baseline of our Clients' portfolio for MEES or Net-Zero Carbon purposes, we have also been trained and then have been exposed to hundreds of site visits of our Clients' properties. Our comprehensive track records range from the most isolated industrial warehouses in the Counties to the tallest steel and glass skyscrapers in the City, from Portuguese shopping centres to Italian residential blocks, from luxury outlets in Belgium to high street retails in the Netherlands. You find us talking with the building managers about their tenants' green leases, chasing regional facilities managers for energy bills, squeezing through a ladder hatch with the site facilities managers, rubbing shoulders with the technicians up on the roof while they repair the cooling towers or in the basement while they set up the boilers' BMS. And then sitting down with the asset and portfolio managers in the poshest office of their portfolio to discuss together about the surveys' findings and find bespoke solutions for them.
We do know what we talk about, not only when we prepare a high-level strategy to present to the Board but also when we go down to the details of the software or the relevant certification scheme. And this makes our Clients feel safe with us and certainly confident about having chosen the right business partner.
It takes time to become technically competent in your professional niche. But to build TRUST with new clients and to be able to retain the existing ones and maintain the same top standards takes EVERYTHING ELSE, and hence for a boutique firm like ours these 100% 5-star referrals are a testament to the immense effort made during our first full calendar year in business and we are grateful for your appreciation.
Thank you again.
PS A personal comment from our Founder, whose friend advising a 5-star GRESB real estate fund has just let him note that the biggest challenge once you get to that score is that there is only one way to go now: we can only promise, and are promising indeed, to keep up with the good work and to remain authentic and loyal to our values. Success for us is to wake up every day and go to work (mainly from home these days) HAPPY and fulfilled for making a POSITIVE IMPACT in life!