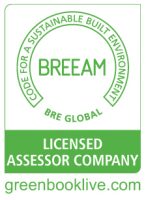 BREEAM In-Use | Important news!
BRE has carefully considered appropriate price increases for some of their services considering economic conditions. As a result, they are increasing prices by approximately 15% for BREEAM registration, QA and certification and other related service fees for several schemes on 1st April 2023.

Want to lock in fees at today's prices?
 
Registration and certification fees can be locked in at today's prices by purchasing before 1st April 2023.
 
BREEAM In-Use
 
Registration and certification credits can be purchased on the BREEAM In-Use online platform. Once purchased, these credits are available to be used when an organisation is ready to register an assessment or submit an assessment for certification.

The Performance Measurement Credit is increasing from £540 to £620 per asset (used to be £500 until June 2022) and allows allows unlimited use of the BREEAM In-Use questionnaire and dynamic scoring functionality for a period of up to twelve months and/or until the assessment is submitted for certification; whichever is sooner for one asset.

Clients can then request certification for their assets through an accredited BIU Assessor for £1,000 per asset (used to be £800 until June 2022). Certificates are valid for up to three years. If the Client wishes to submit new information or change the decision regarding their certificate within this time frame, they can opt to take part in mid-cycle certification (at £320 per asset per part), the result of which will be valid for the remaining time on the original certificate.


The QA process is also changing!
As part of BRE's ongoing commitment to improve their service levels, they have undertaken a review of the QA process introduced in April 2021. This original approach was launched with the intention of improving timescales and efficiencies by implementing a more formal halting process when trigger points were met during the audit process. This was to give the BIU Assessor an opportunity to improve the entire assessment, therefore ensure that when the remaining issues were audited, no further non-conformances were raised. Unfortunately, following the review BRE can see that for the majority of assessments only the issues where feedback was issued were updated resulting in an increase in NCs (non-conformances) upon resubmission audits. The process, therefore, has not had the desired effect in reducing resubmissions which have a significant impact on BRE's QA timescales.
As communicated in January their audit data shows:
A total of 82% of all audits completed were resubmissions.
A total of 54% of all audits completed were on their 3rd resubmission or higher.
BRE highlighted in their communication on 16th January 2023 that they were taking several steps to improve their QA timescales, which currently takes up to 18 weeks to provide the first feedback, by increasing their technical auditor resources by over 80%, and implementing operational and digital improvements as well as reviewing their process.
In particular the following updates are being made:
The halting process will apply to all assessments and all submissions – including both first submissions and resubmissions.
For new assessors, the halt will apply from 2nd submission of an assessment onwards
The QA audit failure charge (£600) will apply where a resubmission is halted
If an assessment that was halted at 12 non-conformances is resubmitted and no changes have been made to the submission, the assessment will be halted again without the rest of the assessment being audited.
If an assessment which is resubmitted which is already in excess of 12 non-conformances, the halt will still apply where it has not decreased below this number.
Where an assessment is submitted three or more times without improvement, resulting in multiple resubmission audits with the same number of non-conformances, the QA Failure resubmission charge will be applied.
If an assessor wishes to appeal a failure/halt of an assessment, a price will be provided upon appeal as per our fee sheet.
The above process will apply to all assessments currently submitted and future submissions from the 1st April 2023.