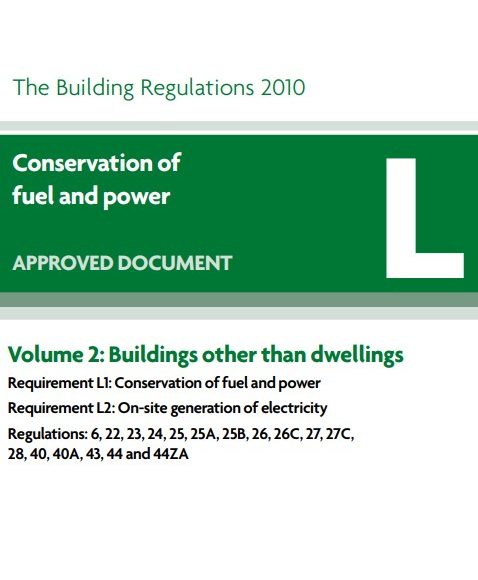 New Part L coming into force this year
With the much anticipated release of the new "Conservation of fuel and power – Part L 2021 Building Regulations" coming into force this year, our Head of Sustainability and building performance specialist, Ian Keenleyside, takes a look through some of the key aspects concerning non-domestic buildings in England.
The new Part L regulation will take effect from 15th June 2022.  However, they will not apply to work subject to a building notice, full plans application or initial notice submitted before then – provided the work commences on site before 15th June 2023. This will also impact redevelopment projects in the existing building space when defined as 'building work' under building regulations.
Heating and powering buildings currently account for approximately 40% of the UK's total energy usage, so this more rigorous standard has been highly anticipated, and needed for building energy regulations to align with the low and zero carbon Government commitments. The regulation concerning heating, lighting and hot water energy use in buildings has not had any major revisions since 2013. Some will argue that the impact of more stringent central Government efficiency standards is too late, as several councils already insist on standards that exceed the current Part L targets under their respective local planning requirements. Even so, this new release of Part L 2021 will be the UK Government's interim stepping stone prior to the release of the Future Buildings Standard, due in 2025 which promises to be the their gateway to net zero carbon buildings and will demand buildings to be 'net zero ready'.
Do the interim regulations go far enough?
Firstly new non-domestic buildings must achieve an average of 27% reduction in CO2, relative to 2013 standards based on the target emissions rate for the building by comparing it with a compliant hypothetical building of similar size and shape. It also includes 'backstops' on new minimum efficiency standards for both new and replacement thermal elements, windows and doors.
| | | |
| --- | --- | --- |
| Element | 2013 Standard (W/m2 K) | 2021 standard (W/m2 K) |
| New walls | 0.35 | 0.26 |
| Openings (window, roof windows or curtain walling) | 2.2 | 1.6 |
The new 'primary energy' performance metric will be introduced, which takes into account factors such as: efficiency of the buildings heating systems, power generation efficiency for electricity and the type of energy used to produce fuel and deliver it to the building. This seems to align with the shift towards heat pumps, certainly at least in domestic buildings, as the net zero strategy approach to lean on the projected CO₂ reduction in network grid-supplied electricity.
Although these standards set us on the way to lower building emissions, we hope that there is a shift in focus on post-occupancy performance, as we await the Future Building Standards, with consultation starting next year. We will be in support of more focus on building energy performance post-completion, to require energy forecast calculations, providing the occupier with month on month predictions of energy use. The current SBEM limits generate a target emissions rate for the building by comparing it with a compliant hypothetical building of similar size and shape, based on the National Calculation Methodology use patterns and occupancy templates, not linked with predicting actual energy use and hence making bigger the so called performance gap between the "as designed" or  even "as built" asset performance (based on modelled regulated energy) and the operational performance (based on the building's actual energy consumption).