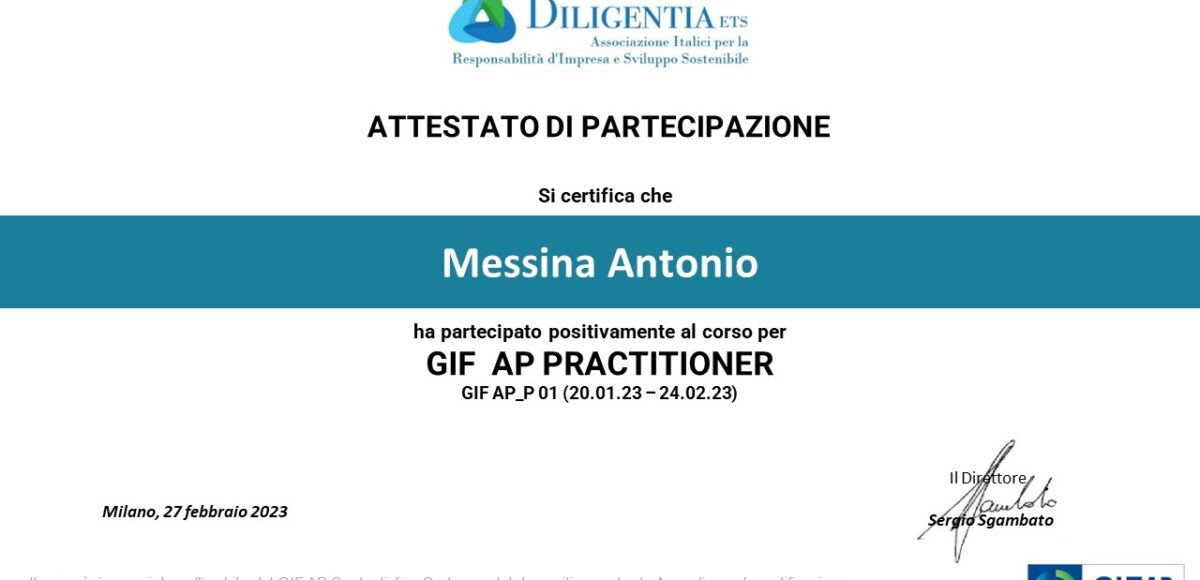 Last year E.S.G. Solutions started a clear business transformation process, moving from a simple technical advisor role for our clients – mainly real estate developers and asset managers – to an outreaching management consultancy firm offering a full range of ESG services to numerous industries including the hospitality sector, education, museums and entertainment, luxury and fashion, manufacturing, investors, banks and financial operators.
As part of this process we are upskilling and training existing staff, as well as recruiting talent in this space. Our last structured training has been in a topic whose development is been driven by the new corporate sustainability reporting directive and the sustainable finance disclosure regulation: getting trained in becoming third-party accredited professionals in compliance with internationally recognised standards, who advise firms on their ESG and legal compliance requirements going forward.
More in detail, a GIF AP Credentialing System is a globally-recognized certification scheme designed for professionals in the field of social responsibility, ESG rating and sustainability reporting. The scheme, certified according ISO 17024 by Accredia, is designed according to the following framework:
EQF (European Qualification Framework)
GreenComp (European Sustainability Competence Framework) 2022.
The credentials attest the competence (knowledge and skills) of specialised professionals able to:
establish, implement and assess an effective management system for social responsibility, sustainability and ESG risks; and
prepare and certify a corporate sustainability report which refers to international standards (EFRAG-ESRS, IFRS, GRI).
GIF AP Credentialing certifies that a professional (irrespective of the organization, industry and location) is highly skilled in:
Social responsibility management system: Recognizing you have the skills to establish, implement and evaluate an effective and performance oriented management system for social responsibility and sustainability;
ESG risks: using predictive approaches to determine the exposure level to ESG risks;
Sustainability reporting: highlighting the ability to prepare and evaluate a corporate sustainability reporting according to international standards (e.g. GRI, EFRAG-ESRS, IFRS).
OPPORTUNITIES FOR GIF APs
Only GIF AP Practitioners are recommended to provide organisations with consultancy advisory services for establishing and implementing an effective management system for social responsibility and ESG risks management and preparing a corporate sustainability reporting according to international standards and the GIF Framework.
Being a GIF AP Practitioner is an industry credential denoting professional experience and deep competence in social responsibility management system, ESG risks management and sustainability reporting preparation (according to international standards). Only certified GIF AP Assessors and GIF AP Technical Experts with valid credentials can be appointed by Approved Validation Body to conduct a Due Diligence and certify the sustainability reporting within the Get It Fair (GIF) Programme.
Diligentia ETS is the Programme Operator of the GIF AP Credentialing system and makes publicly available the register of certified GIF APs.