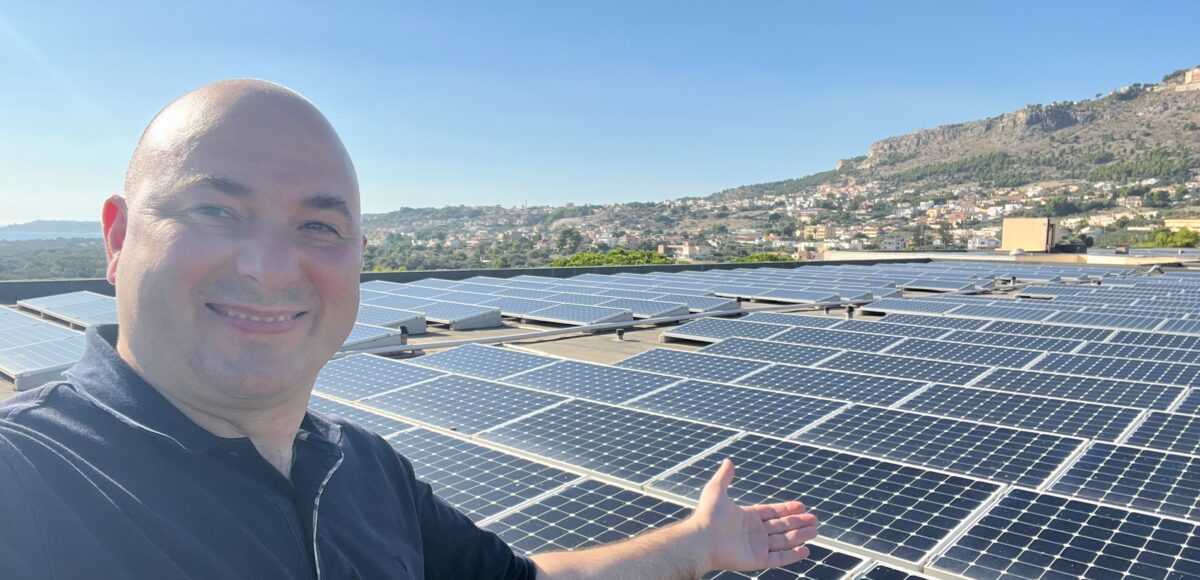 ESOS Compliance Period 3: what's new and what to expect
The Energy Savings Opportunity Scheme (ESOS) has been a catalyst for positive change in the realm of energy efficiency and sustainability for organizations. With ESOS Phase 3 on the horizon and Phase 4 proposals under consideration, let's dive into the latest developments.
ESOS Phase 3 highlights
Extended compliance deadline: Phase 3 has extended the compliance deadline. Organisations now have until 5th June 2024 to meet ESOS Phase 3 requirements. This extra time allows for more comprehensive planning and implementation of energy-saving strategies which we are currently supporting our clients with.
Qualification criteria: The qualification criteria for Phase 3 remain consistent with previous phases. ESOS applies to UK large undertakings:
EITHER employing 250 or more people;
OR those with both an annual turnover exceeding £44 million and an annual balance sheet total exceeding £38 million.
Any organisations that are part of a corporate group containing an undertaking that meets these criteria is also captured by the regulations e.g. also Small Medium Enterprises are required to comply with ESOS if their corporate group includes a Large Enterprise registered in the UK.
Total Energy Consumption: Organisations meeting the qualification criteria should calculate their Total Energy Consumption (TEC) over a 12-month period ("reference period") which must include energy consumption on 31st December 2022 ("qualification date"), helping pinpoint areas of Significant Energy Consumption (SEC) requiring auditing.
De minimis exemption change: A notable change in Phase 3 is the adjustment of the de minimis exemption. The SEC that participants must now cover is at least 95% of their TEC, an increase from the 90% requirement in Phases 1 & 2.
The Environment Agency (EA) has provided a table in Annex A (below) setting out the information that will need to be notified to comply with the expected Phase 3 requirements, subject to Parliamentary approval of the legislation. Any specified format for providing the information in the table will be finalised and published once the new ESOS regulations are laid and details will be provided on how to submit the notification on the new digital service currently under development.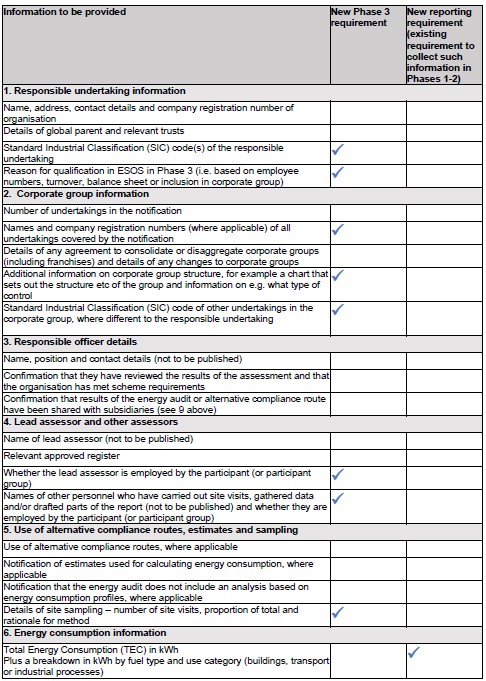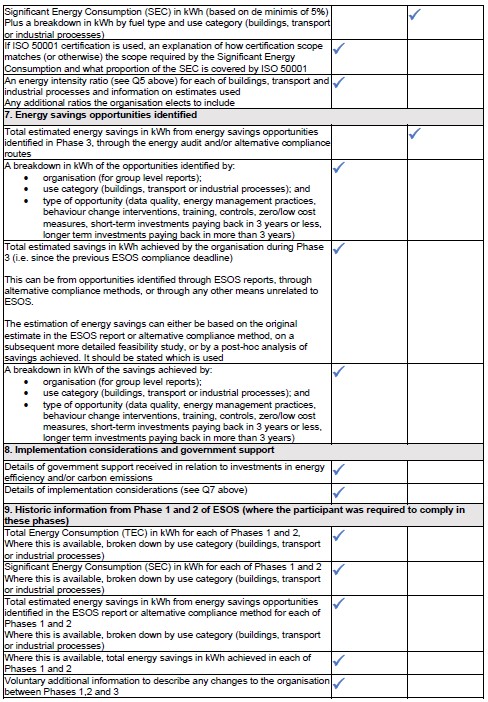 Participants are reminded that notifications cannot be submitted until the Phase 3 requirements have been finalised in legislation and the updated IT system, which is currently being developed, has been appropriately tested. The system is likely to be in place by the end of 2023 and will be made available in time to enable participants to meet notification requirements ahead of the extended compliance deadline.

What's on the horizon: ESOS Phase 4
While we prepare for ESOS Phase 3, it's worth keeping an eye on what Phase 4 might entail. The government's response outlines key decisions for Phase 3 and hints at potential changes for Phase 4, subject to Parliamentary scrutiny. These anticipated changes are essential for aligning ESOS with evolving energy efficiency goals and sustainability targets.
The graphic below summarises the decisions announced in the Government Response, and how they are proposed to be implemented in Phase 3 and 4: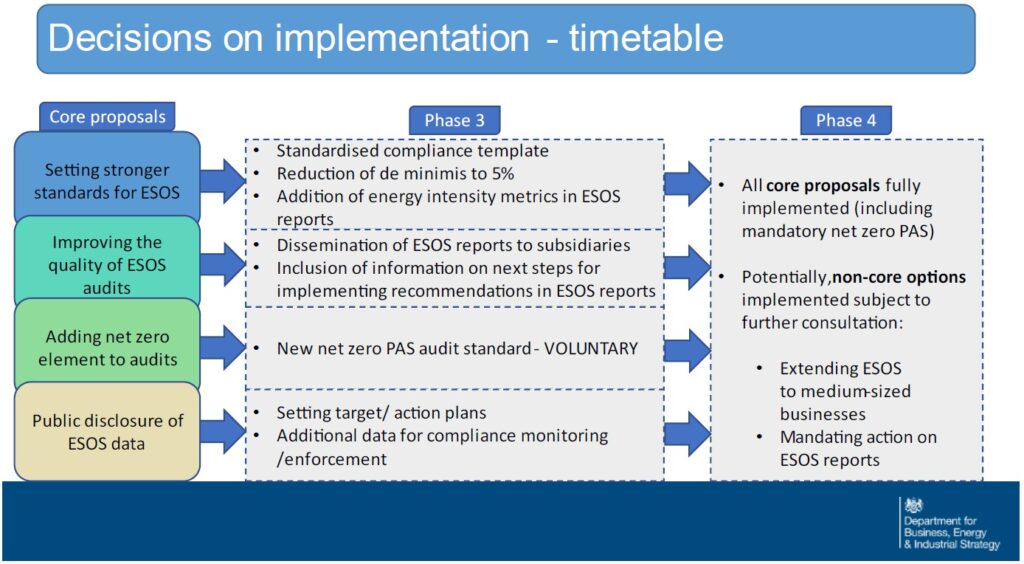 The path forward
For participants in ESOS, staying informed and proactive is paramount. The extended compliance deadline in Phase 3 provides an opportunity to strategise and execute impactful energy-saving initiatives effectively.